I'll admit, I've been talking about Amazon Studios a lot lately.  Could that be because they're on a roll lately?  I mean, The Boys was a huge hit, Carnival Row is destined for greatness and Undone could be the sleeper hit of the fall.  Now they will take to the skies for the science of weather this December.  Take a look at the first look image for The Aeronauts at the top of the page.  Seems like all fun and games in a hot air balloon until you see this image: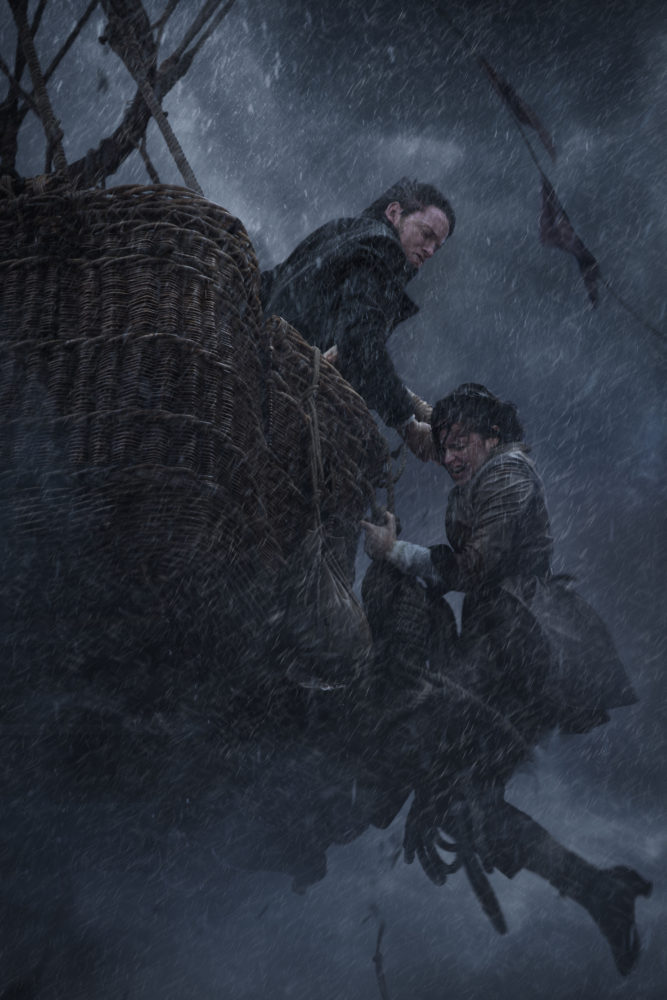 On looks alone, this looks like a crazy and interesting adventure.  So let's take a look the synopsis:
 In 1862, daredevil balloon pilot Amelia Wren (Felicity Jones) teams up with pioneering meteorologist James Glaisher (Eddie Redmayne) to advance human knowledge of the weather and fly higher than anyone in history. While breaking records and advancing scientific discovery, their voyage to the very edge of existence helps the unlikely pair find their place in the world they have left far below them. But they face physical and emotional challenges in the thin air, as the ascent becomes a fight for survival.
Finally, here is the first trailer:
To me this is a genre that hasn't been explored enough recently, 19th century scientific discovery.  It takes us out of the high tech world that we're in now and reminds us just how things began in the first place.  No phones, no apps and very little warning at what's coming.  I don't know about you, but I'm intrigued.
The Aeronauts reunites stars Felicity Jones (Rogue One: A Star Wars Story) and Eddie Redmayne (Fantastic Beasts) who you might remember from playing Jane and Stephen Hawking in The Theory of Everything.  This time they'll be working with director Tom Harper, who worked on the 2016 War & Peace mini-series and directed a few episodes of Peaky Blinders.  The Aeronauts premieres in theaters on December 6, 2019 and on Amazon Prime Video on December 20, 2019.
Photo Credits: Amazon Studios